Albrecht Dürer - In the Netherlands
On July 12th, 1520, Dürer started on a journey to the Netherlands, accompanied by his wife and a maid. Various biographers had different opinions regarding the reasons behind the journey.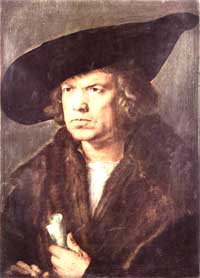 Portrait of a Man with Baret and Scroll, 1521
Museo del Prado, Madrid
Most probably, Albrecht Dürer set for his journey in order to obtain his Confirmatia (ratification of the pension granted to him by the deceased Emperor Maximilian) from the new Emperor, Charles V. And that was because, as strange as it may sound, the City of Nuremberg refused to grant him his pension without the formal approval of the new Emperor.
He visited Cologne, Antwerp, Aix-la-Chapelle, Ghent and Bruges. His itinerary suggests that he was indeed following the new Emperor, as the artist witnessed Charles's coronation at Antwerp, and the festival in Cologne held in his honour. No doubt that he had to make the acquaintance of many courtiers in order to solve his problem.
Albrecht Dürer was very impressed with the prosperity and magnificence he saw all around him. He was well received by artists, like Joachim Patinir, Barent van Orley, Lucas van Leyden, and Gerhard Horebout. Municipal personalities looked for his society, and he was presented to Margaret, the Regent of the Netherlands, while King Christian II of Denmark invited him for dinner. Dürer draw a portrait of the monarch in charcoal, and also painted one in oil.
In such an atmosphere, he enthusiastically made sketches of cities, and painted the portrait in oil of Barent van Orley, Duchess Margaret's court painter, the "Portrait of a Man" in a fur mantle, now in Prado, and the "Portrait of an Old Man," in the Louvre. His charcoal portrait sketches executed during this period included those of important people of the time like Erasmus, Paul Topler, or Martin Pfinzing.
The Netherlands journey is once more probing the honest character of Dürer, who was an artist, and not of a mercenary nature. The love of his native Nuremberg was so great that he refused yet another offer, that of the art loving City of Antwerp, which offered him a 300 gulden pension, a rent free nice house, and complete exemption of taxes.
All this time, Dürer did not neglect what was happening in his country, split into religious factions due to the movement initiated by Martin Luther. In 1520, in a letter addressed to Georg Burkhardt, chaplain and private secretary of the Elector Frederick the Wise of Saxony, he asked him to protect Luther for the sake of the Christian truth, as this is "of more importance to us than all the power and riches of the world; because all things pass away with time; truth alone endures forever."
When Luther had been taken prisoner near Eisenach, in an emotional letter, Dürer wrote: "O Lord Jesus Christ, pray for thy people, redeem us in thy right time. Keep us in the true Christian faith, gather thy widely scattered sheep by the call of the Holy Word, help us to recognise thy voice and not follow the lure of specious, human arguments, that we may not depart from Thee, " and "But, O God! If Martin Luther is dead who will preserve to us thy Holy Evangel!"
Next - The Last Years