Albrecht Dürer - The Last Years
In the summer of 1522, Albrecht Dürer returned to Nuremberg. While he was away, Reformation became very influential in his town, not without excesses, so the Nuremberg he found was not as peaceful, nor as happy as before.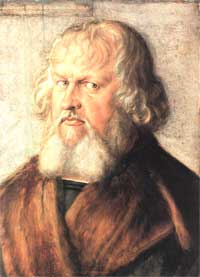 Portrait of Hieronymus Holzschuher, 1526
Staatliche Museen, Berlin
It was only due to people like Willibald Pirkheimer and Lazarus Spengler that, in the end, moderation triumphed, and the transition to Reform was done without more excesses and injustice.
The religious turmoil marked Dürer's later works, and there are very few subjects with a traditional Catholic theme. However, there are several works with subjects from the life of Christ.
Not long after his return, the City Council asked him to decorate the Council Chamber with frescoes. The themes were the "Triumphal Car of Emperor Maximilian," of which Dürer made a woodcut in 1522, "Calumny," and the "City Musicians." The artist made only the drawings, and the paintings in the City Hall may be originally the work of Georg Pencz, one of his disciples.
In 1522 was painted the portrait of Hans Imhof the Elder, wearing a broad-brimmed hat, the execution of the fur collar suggesting a Venetian influence. Important copper-engraved portraits of this period are that of the humanist, Eoban Hesse, 1522, the two of Duke Albrecht of Brandenburg, made in 1523, that of his good friend Willibald Pirkheimer 1524, Elector Frederick the Wise of Saxony, 1524, and Erasmus and Melanchthon, dating from 1526.
His last portraits in oil were also done in 1526. That of Johann Kleeberger, in Kunsthistorisches Museum in Vienna, of Jacob Muffel of Nuremberg, in Staatliche Museen, Berlin, and the wonderful portrait of Hieronymus Holzschuher, also in Staatliche Museen, Berlin.
Dürer's last great work, made in 1526, consisted of the two painted panels representing the "Four Apostles," work offered as a gift to the council of the City of Nuremberg.
From the next year, 1527, dates one of his important science works, the "Art of Fortification." This was his second written work, as he had given out in 1525 a volume entitled "The Teaching of Measurements with Rule and Compass." He was also working to publish the four-volume "Human Proportions," his lifelong work.
Two books only were ready for the press when he died suddenly, April 6th, 1528, as a result of a strange illness he contracted while in the Netherlands.
It was a huge shock, deeply felt by all the great minds of the time. From Pirkheimer and Camerarius, to Melanchthon and Luther, all of them appreciated not only the artistic genius, but also the modesty, and the pure soul of the man who was Albrecht Dürer.
And as Goethe said: "In truth and nobility and even in beauty and grace, Dürer, if one really knows him with heart and mind, is equaled by only the very greatest Italian masters."